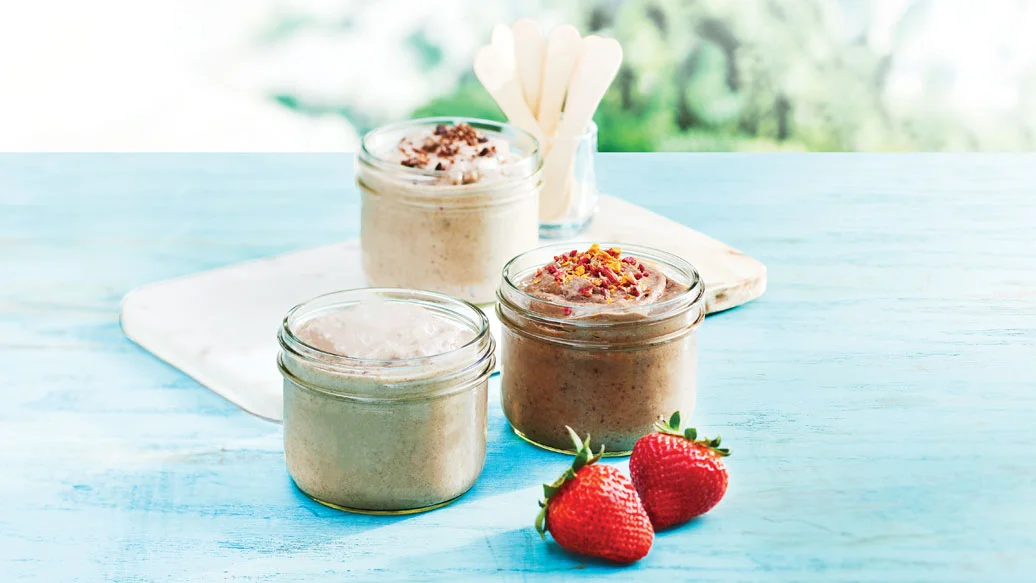 6 min
2 servings
$2.20/serving
A spin on a classic indulgence—have 'ice cream' for dessert…and breakfast once in a while.
Ingredients
2 frozen peeled & chopped bananas
1⁄2 cup milk, your choice
1⁄4 cup coarsely chopped fresh or frozen strawberries, about 3–4
1 tbsp nut or seed butter, your choice
Toppings (optional): Summer Berry Sweet Dip Mix
Preparation
In a food processor or high-speed blender, puree bananas, milk, strawberries, protein blend and nut or seed butter until smooth. Scrape down sides to ensure all ingredients are blended, as needed. If needed, add more milk, one tbsp at a time to blend. 
Divide between glasses and shake on more topper, as desired. 
Nutritional Information
Per serving: Calories 250, Fat 7 g (Saturated 1.5 g, Trans 0.1 g), Cholesterol 5 mg, Sodium 180 mg, Carbohydrate 37 g (Fibre 5 g, Sugars 20 g), Protein 37 g.
Tips
Prep ahead and have 2 peeled and chopped bananas in the freezer. 
For a Good Food. Real Results. dessert portion, enjoy a 1⁄2 cup serving.  
Dairy free? Simply use a milk alternative like oat or almond milk.