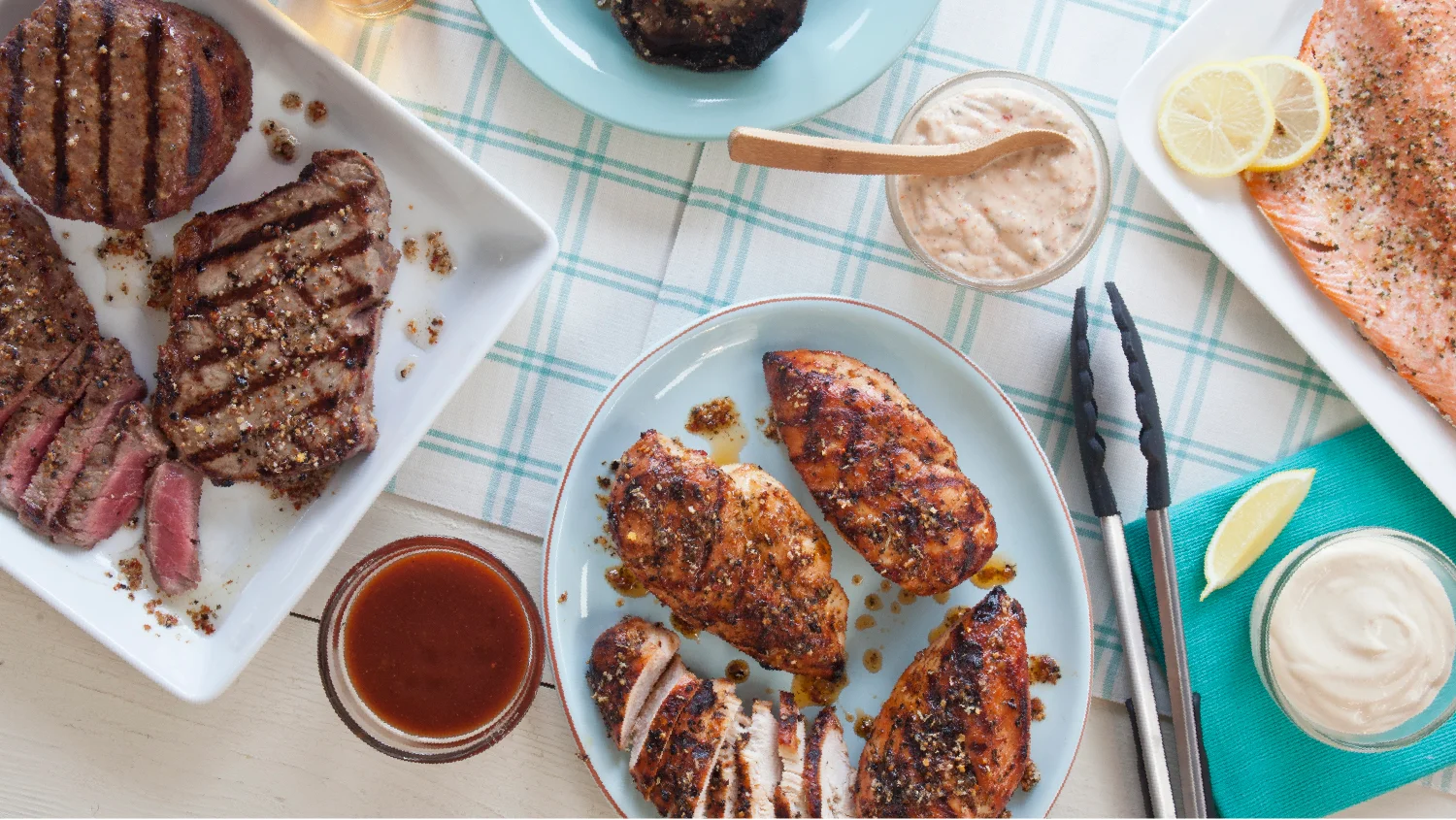 WHAT IS HALAL?
In Islam, the word "halal" refers to foods that are "permissible" or "allowed" for Muslim consumption, following Islamic dietary laws. The word "haram" is its antonym meaning that it does not fall in accordance with Islamic law. Halal is important to Muslims because it is a divine dictate in the Holy Quran.  
Consumption of the following animals is considered permissible: 
Domesticated birds  
Cattle 
Sheep  
Goats 
Deer 
Rabbits 
Fish  
Camels

Consuming meat of the following animals is considered haram: 
Pigs 
Animals that were slaughtered without being blessed  
Animals that were dead before slaughter  
Birds of prey 
Carnivores  
Reptiles  
Rodents 
Insects 
Domesticated donkeys    
For more information on halal dietary rules, check out the resources below: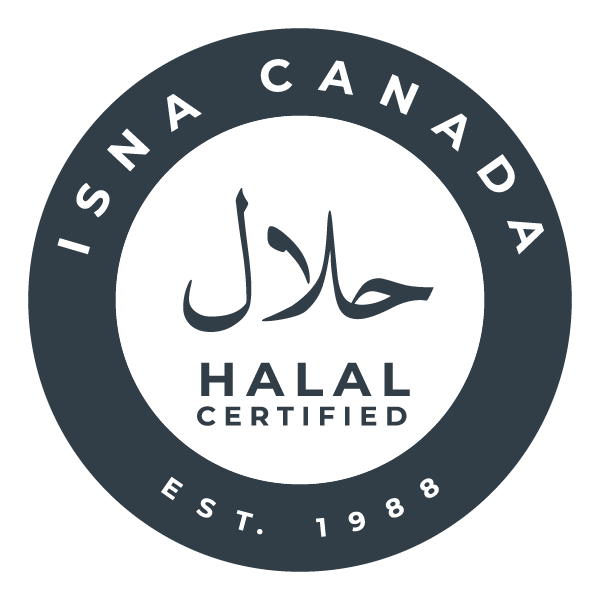 Our Halal Certification Process 
Epicure products are certified Halal through ISNA Canada, a certification agency that serves hundreds of food manufacturers nationwide. With 20 years of experience certifying Halal foods, ISNA is one of the most reputable certifiers in Canada. ISNA also offers many community programs including health and wellness classes, counseling, food banks, and more.
Learn more about ISNA Halal Certification Services here.
Click here to view our certification. Epicure 2022_001.pdf


The following products are certified Halal when bearing the HCS logo:
3 Onion Dip Mix
Alfredo Sauce Mix
Aloo Gobi Seasoning
Ancho Lime Rub
Apple Pie Spice
Asian Stir-Fry Seasoning
Bali Glow Dry Glaze
Balsamic Vinaigrette Dressing Mix
BBQ Chicken & Rib Rub
Beef & Broccoli Stir-Fry Seasoning
Beef & Steak Seasoning
Berry Swirl No-Bake Cheesecake Mix
Better Than Bacon Topper
Big Burger Sauce Mix
Black Pepper (Grinder)
Black Pepper (Refill)
Bruschetta Seasoning
Buffalo Wing Seasoning
Burger Seasoning
Butter Chicken Seasoning
Caesar Dressing Mix
Cajun Chicken Stew Seasoning
Caramel Sauce Mix
Carne Guisada Seasoning
CCB Dip Mix
Cha-Cha Chili Seasoning
Cheddar & Jalapeño Cornbread Mix
Chicken Fried Rice Seasoning
Chicken Souvlaki Seasoning
Chili Flakes & Garlic Topper
Chimichurri Sauce Mix
Chinese Five Spice Wing Seasoning
Chipotle Aioli Mix
Chocolate Bliss Brownie Mix
Chocolate Fudge Sauce Mix
Chocolate Instant Pudding Mix
Chocolate Mud Pie Mix
Chocolaty Temptation Cupcake Mix
Chop Chop Salad Dressing Mix
Churro Popcorn Seasoning
Cinnamon (Ground)
Citrus Lime No Bake Cheesecake Mix
Classic Meatloaf Seasoning
Coconut Curry Mussels Seasoning
Coleslaw Dressing Mix
Cran-Lemon Loaf Mix
Creamy Potato Salad Dressing Mix
Creamy Ranch Dip Mix
Crispy & Crunchy Coating Mix
Crispy & Crunchy Lettuce Wrap Seasoning
Cuban Mojo Marinade Mix
Cumin Ground
Dijon Tarragon Dressing Mix
Donair Seasoning
Dulce de Leche Pudding Mix
Easy Peasy Bolognese Sauce Mix
Easy Peasy Taco Mix
Enchilada Seasoning
Everything Bagel Whole Food Topper
Extraordinary Cheese Dip Hot Dip Mix
Fajita Seasoning
Feisty Green Sauce Mix
French Onion Dip Mix
Garden Veggie Dip Mix
General Tao Seasoning
Ginger Ground
Golden Latte Latte  Mix
Greek Dressing Mix
Guacamole Dip Mix
Happy Holidays Stuffing Seasoning
Herb & Garlic Dip Mix
Herbed Garlic Sea Salt Blend (Grinder)
Herbed Garlic Sea Salt Blend (Refill)
Hollandaise Sauce Mix
Italian Seasoning
Jerk Chicken Seasoning
Lemon Chicken Orzo Seasoning
Lemon Dilly Dip Mix
Lemon Pepper Wing Seasoning
Luscious Lemon Curd Mix
Mac & Cheese Seasoning
Mango Lassi Mix
Maple Miso Marinade Mix
Marinara Sauce Mix
Minced Garlic
Montreal Chicken Rub
Montreal Steak Rub
Morning Glory Muffin Mix
Nacho Cheese Dip Mix
Oh Canada Dry Glaze
Ooey Gooey Queso Dip Mix
Oregano Leaves
Pad Thai Seasoning
Pesto Sauce Mix
Philly-Style Cheesesteak Seasoning
Piña Colada Mix
Poco Picante Salsa Mix
Poke Bowl Dressing Mix
Poke Bowl Topper Blend
Pulled Chicken Seasoning
Pumpkin Spice Latte Mix
Queso Blanco Hot Dip Mix
Quick Biscuit Mix
Red Garlic Topper Blend
Roasted Garlic Aioli Mix
Rosemary Garlic Seasoning
Rosemary Leaves
Rotisserie Chicken Seasoning
Ruby Red Velvet Cupcake  Mix
Salmon Rub
Sea Salt (Grinder)
Sea Salt (Refill)
Sesame Ginger Dressing Mix
Shish Kebab Seasoning
Sloppy Joe Seasoning
Smoked Spanish Paprika
Smokin' BBQ Sauce Mix
Smoky Sriracha Sea Salt Blend
Southern Baked Gluten Free Crumb Mix
Southwest Ranch Dressing Mix
SPG Seasoning
Summer Berry Sweet Dip Mix
Sweet & Sour Stir-Fry Seasoning
Sweet Banana Bread & Muffin Mix
Sweet Garlic Chicken Seasoning
Taco Seasoning
Taco Seasoning
Tahini Power Bowl Dressing Mix
Teppanyaki Sauce Mix
Teriyaki Dry Glaze
Thyme Leaves
Toasted Onion
Tropical Pineapple Chicken Seasoning
Turmeric Ground
Tuscan Chicken Burger Seasoning
Vegetable Seasoning
West Coast Burger Seasoning
Yaki Udon Stir-Fry Seasoning
Za'atar Seasoning